Work Culture
Our work culture is an unique representation of the organizational beliefs and values. Each one of us take pride in what we are doing every day. Team spirit is given primacy over Individual achievement. We provide everyone with the opportunity to initiate change and to grow on a professional and personal level. Our work culture also promotes openness and encourages employees to voice their opinions and ideas and chase the values they believe in. This helps create satisfied employees and increases productivity.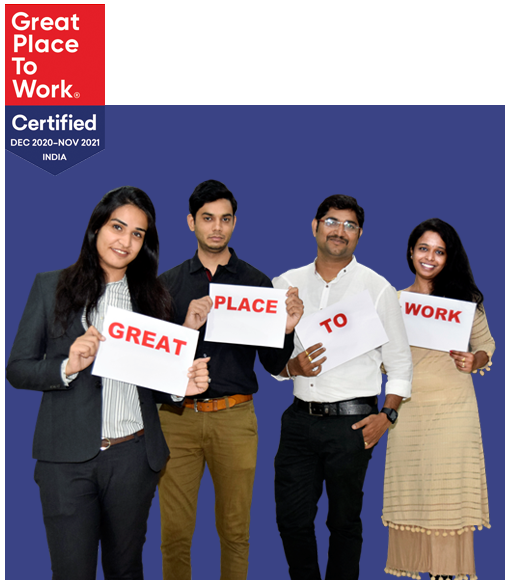 Great Place To Work
KFintech, is the proud recipient of the Great Place to Work® Certification which is the 'Gold Standard' that organizations around the globe aspire to achieve, in order to enhance and endorse their Employer Brand.
The Culture audit reflected that people practices and programs conducted at KFintech are unique, creative and all inclusive with a human touch and an overarching framework.
KFintech provides a transparent environment that encourages creativity and breakthrough ideas.
Some of the flagship programs that have been appreciated by employees are Town Halls and Open Forums, KFintech Idol, Manthan, Utsav, Doctor on Premises, etc. all of which reflect a culture of Innovation, Caring, Recognition and Effective Communication.
Learning & Development
We value employees' professional development & believe in continuous learning, which is why we prioritize industry relevant conferences, skill training, and knowledge sharing. The learning can be described as an amalgamation of on-the-job learning, learning from others, formal learning forums such as classroom learning, Micro Learning & Web based Learning etc. We are open to suggestions from our employees on areas they would like to improve in. We provide various courses through our online platform called KFintech Learning centre.
Employee Engagement
There is a famous saying that "Happy employees lead to happy customers, which lead to more profits". We ensure all our daily activities have buy-in from our internal stakeholders. These include the involvement of our employees in various decision-making processes through forums such as Town halls, MD & CEO Blog & other leadership connects across the organization. A bit of fun is added to our day to day operations. Success stories of employees are shared with their family members and celebrated with them as well since we acknowledge and believe that family plays a very important role in an individual's success.
Rewards and Recognition
When an employee feels appreciated and recognized at the workplace, s/he can make a positive difference to the organization. We make conscious efforts to recognize and reward our employees by acknowledging their work. This helps reinforce the idea that hard work never goes unnoticed and they get motivated to continue doing the exceptional work with the greater zeal. We celebrate the success of the employees every month through our various programs such as

Hall of fame

KITE (KFintech Innovation Thought Engine )

Wall of Thanks
KFintech Annual Value Champion Award

My experience with KFintech has been refreshingly different. They are extremely clear in outlining the project and scope of work so there was never any confusion or unmet expectations.
Chakravarthy Annam
- IT Team

Working at KFintech is a great pleasure for me. The thing I appreciate most about the company is that it has given me the opportunity to work in a pleasant multicultural environment with very nice colleagues. I am proud to be part of KFintech.
Naveen Kumar K
- Executive Trainee

So much to learn and explore new technologies. I found my self among the great group of colleagues.
Premalatha
- Deputy Manager

My journey in KFintech can be described in one line : "Growth is never by chance, it is the result of forces working together".
Pavan Byru
- UI Developer - IT Team